4X Latina VC Summit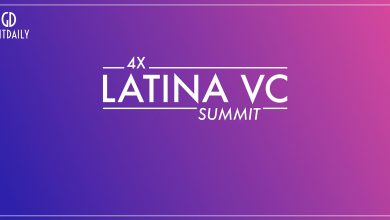 Congressional Startup Day's Flagship Talk:
The 4X Latina VC Summit, Sponsored Grit Daily
As part of Congressional Startup Day at Industrious, Tampa, Grit Daily Will be hosting four of the ten top Latina VCs globally for the 4X Latina VC Summit.
What: 4 of the Top 10 Latina VCs Globally Talk All Things Money & Startups
When: 2:30pm – 3:00 pm ET
Where: Industrious, Tampa at Grit Daily News' Congressional Startup Day
Who: Loralyn Mears, Ph.D.: Grit Daily podcast host and emcee
Ayurella Muller, Forbes: Moderator
We are thrilled to invite you to the 4X Latina VC Summit hosted by Grit Daily and co-moderated by Loralyn Mears, PhD, along with a top columnist at Forbes.
Throughout the summer, Grit Daily's podcast show will interview four senior Latina VCs. Each dedicated episode will feature one on one exclusive interviews with top distinguished Latina venture capitalists. Listen to Grit Daily's podcast show leading up to the 4X Latina VC Summit involving everyone close to the end of summer!
The 4X Latina VC Summit, co-moderated by a leadership contact at Forbes will show how to build an engaged, high-performance culture and attract capital. It dives into the science of investing and decision-making, why diversity is profitable and how to engineer it, along with an exploration of the emergence of founder support services and why science matters more than ever in the 2020s.
Benefits Of Attending This Summit:
Explore a methodology developed in collaboration with Stanford University to make smarter investment decisions.
Learn how smart investors have rolled out new support programs – from marketing, HR, legal and M&A expertise – that are being managed in-house or under separate branches of firms to ensure portfolio company founders have significant support.
Dive into how a strong culture can carry organizations to greater heights, faster – and also help companies navigate through more difficult times. One tried and trusted methodology is known as The Movile Way.
Startup Pitches will have the opportunity for a rapid-fire four minute pitch followed by a two minute VCs Q&A.
Guidelines:
Must have a working product.
Must be pre-seed or seed stage company.
Cannot have raised more than $5 million in funding.
For any inquiries about pitching or sponsorships please contact Jordan@gritdaily.com
Follow us on all social media, @gritdaily.
About

Grit Daily News is the premier startup news hub. It is the top news source on Millennial and Gen Z startups — from fashion, tech, influencers, entrepreneurship, and funding.
Champions Of Live Journalism.
In only its second year, Grit Daily launched annual events during Miami Art Week, Sundance, SXSW along with speaker's dinners at CES, Web Summit, Collision, Amazon Alexa's Voice Summit, Ascent, The Next Web and many others.
Grit Daily also hosts monthly Business Breakfast Roundtables for executives in business and separately evening Pop-Up Fireside Summits for in-depth discussions on contemporary issues.
Join Grit Daily's Community by becoming a member and supporting independent journalism.
Read More
Go to Event