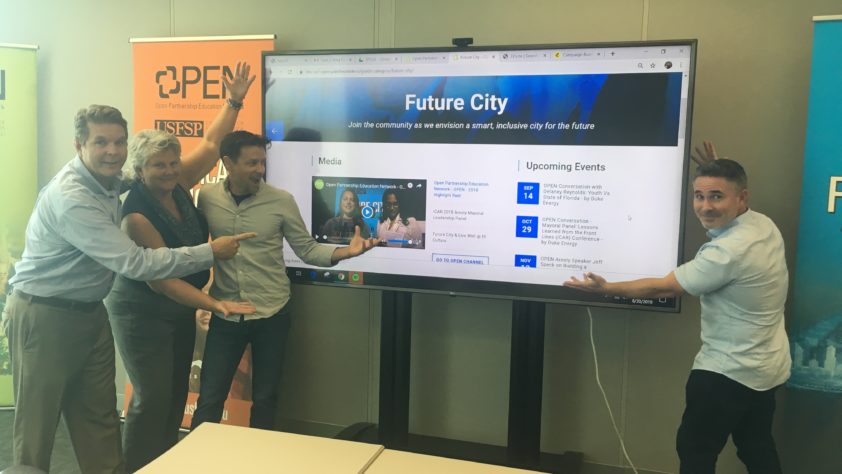 OPEN and Tapp Network: Co-creating infrastructure for social impact.
By Ben Smet
It's not every day that two organizations align easily and with impact on their first meeting, but that's what happened when Tapp Network's Sue Myers, Director of Strategic Partnerships met with Frank and I this past Summer.
Tapp Network is a digital marketing and technology firm that serves mission-driven organizations.  Tapp's extensive technical and marketing experience in helping social impact organizations like OPEN engage effectively with community, communicate across multiple sectors, increase awareness of initiatives, and drive sponsorships will be invaluable – it was a fit right from the start.
Our first co-creation effort with Tapp Network was to complete Phase 1 of our website revamp. Don't you just love the new look and feel of this site?  I paired up Tapp with Walter Fernando Balser, Founding Director of OPEN, and they collaborated closely on the refresh of this elegant new site. Balser noted, "from its inception OPEN has been about co-creating experiences and connecting those experiences to the community, and learnOPEN.org is the key conduit to achieving this.  Thanks to the team at TAPP and OPEN, the body of work of this incredible network is now visible for the world to see." We're already moving on to scope out the work for the next 12 months as per our strategic plan.  
"What OPEN has built is extraordinary and we look forward to helping them promote discourse on the things that matter the most to this community," said Joe DiGiovanni, Co-Founder of Tapp Network.   Sue added, "This is the work that we are meant to do, making it possible for people to connect, create meaning and drive change."
Tapp Network's global clients include Tech Soup (serving 80,000 nonprofits) and Tech Impact; international clients include Clear Impact and Esperanza; and, locally,  Tapp Network is a Chamber of Commerce member and supports the Innovation District, MASTR Kids Literacy initiatives in South St Pete, the Warehouse Arts District, Equality Florida, and more. Tapp's local staff works out of the Station House co-working space – and sometimes from here, too.
Tapp's tagline is "Here for good."  And we're glad for that.
Welcome to OPEN, Tapp Network – we're thrilled to co-create with your team.