No Home For Hate – Civility 101 for Students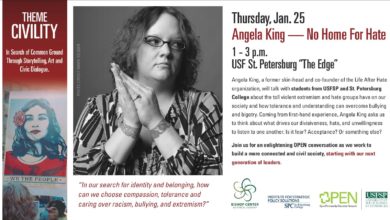 OPEN launches it's CIVILITY Theme by bringing together students from both USFSP and St Petersburg College to talk about solutions to our society's current atmosphere of bigotry, intolerance, divisiveness and extremist violence.
Through powerful stories of transformation and unique insight gleaned from her years as a former skin-head, Angela King, co-founder of the Life After Hate organization, will talk with students about the toll violent extremism and hate groups have on our society and how tolerance and understanding can overcome bullying and bigotry.
Join us for an enlightening OPEN conversation as we work to build a more connected and civil society, starting with our next generation of leaders.
*Please note – this OPEN event is specifically designed for students and faculty. An evening event featuring Angela King is being held later Thursday night from 6pm-8:15 pm at the Seminole Campus Conference Center, St. Petersburg College, 9200 113th Street North, Seminole. To register to attend that event, please go to: http://solutions.spcollege.edu or call 727-394-6942 for more information
Read More
Go to Event