Rad Schools I School Design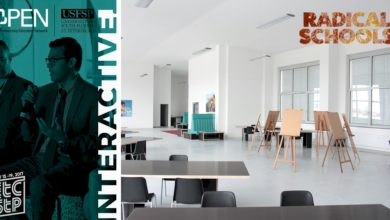 Building Communities of Learning: The Future of School Design
Designers and educators across the country are re-envisioning the way we create modern educational spaces to put community access and human interaction at the forefront of design. Leaders discuss how we build spaces – physical and beyond – to inspire creativity, caring, and community.
Moderated by: Leah McReah, Director of Community and Education Affairs, City of St. Petersburg
Panelists:
Dr. Valerie Brimm – Director, Strategic Partnerships, Pinellas County Schools
Rex Bobbish – Senior Director, New York City Schools
Stephen L Johnson – SVP | Principal, Harvard Jolly Architecture
Christine Laurenzi – Founder, Indi-ED: School Reimagined
Brian Rigby – Director of Design, Grow Development, Boston, MA
—-
This Et Cultura St Pete | OPEN Interactive Session is part of an entire day of programming around the Radical Schools theme, sparking conversation and learning around the intersection of music, sports, youth development and education during Et Cultura St Pete 2017.
To see the full line-up of Rad Schools themed programming at Et Cultura St Pete 2017 scheduled for Friday, November 17th 2017, please go to https://etcultura.com/radschools
The Open Partnership Education Network – OPEN is partnering with Et Cultura St Pete 2017 to bring intellectual conversations and next level thought-leaders to the City of St. Petersburg, Florida USA as part of our mission to create a smarter, better connected city, that learns and grows together.
—-
Here is how ticketing works:
• Priority entrance and seating for these sessions first goes to paid Et Cultura St Pete 2017 Ticket holders.
• Any remaining seats at the OPEN Interactive Sessions can then be filled by the general public, at no cost.
• All seating is first come, first serve.
Buy your week-long all-access tickets to Et Cultura St Pete 2017 now!
Go to https://etcultura.com/tickets
Read More
Go to Event