Salty Topics: Investigating Civil War Shipwrecks of Tampa Bay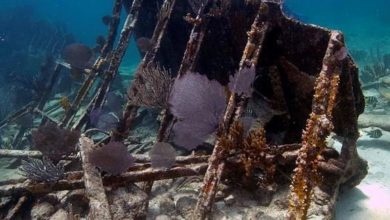 UF/IFAS Extension, FloridaSea Grant: Salty Topics Marine Research Speaker Series
The maritime battles of the Civil War employed a variety of ship types into service. The Civil War era shipwrecks in the Tampa Bay area offer good examples of this hodge-podge collection of boats. This presentation by Jeff Moates of the Florida Public Archaeology Network highlights the history and remains of the Battle of Ballast Point as well as the shipwreck site of USS Narcissus, a Florida Underwater Archaeological Preserve.
Speaker Biography: Jeff Moates is the Director of the West Central and Central Regional Centers of the Florida Public Archaeology Network. He earned a Masters degree in Historical Archaeology from the University of West Florida. Jeff has worked as an archaeology field tech and crew chief in the private sector as well as a underwater archaeologist for the State of Florida. Before working for FPAN, Jeff was the Curator of the Florida Maritime Museum at Cortez.
Light refreshments generously donated from the Friends of Weedon Island (http://fowi.org) will be served prior to the 7 p.m. seminar. Please arrive 15 minutes early to sign in.
Read More
Go to Event