War Through Civilian Eyes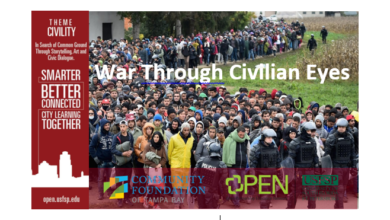 While St. Petersburg's streets and neighborhoods have so far escaped the profound physical ravages of war, that doesn't mean we haven't been impacted by its effects.
Besides being home to thousands of military veterans recovering from both the physical and invisible injuries of political conflict, Pinellas County is also home to hundreds of survivors and refugees forced to flee from war torn communities across the globe.
Thomas W. Smith, author of "Human Rights and War through Civilian Eyes" and associate professor of Government and International Affairs at the University of South Florida St. Petersburg, brings this compelling conversation home:  "No matter where you live, civilians continue to bear the brunt of war."
We'll talk with a Japanese woman who survived bombings in World War II, a Bosnian Muslim displaced during ethnic cleansing and the breakup of Yugoslavia, and a 15 year old Syrian refugee boy, all of whom have now settled here in Tampa Bay.
Join us as we gain a localized understanding of the refugee experience and encourage true connections across cultures…by getting to know our new neighbors.
5:30 pm – 6:15 pm    Reception & Networking
6:15 pm – 7:00 pm   Presentation & Panel Discussion
7:00 pm – 7:30 pm   Audience Q & A
7:30 pm – 8:30 pm   Enjoy a free hour of access to the Holocaust Museum, courtesy of OPEN
Read More
Go to Event