Conversation with a CEO: Dr. Patrick Hwu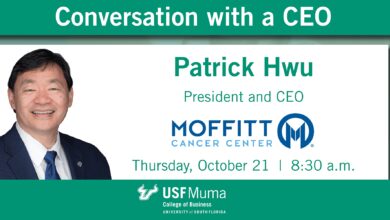 Join us for our next in-person Conversation with a CEO featuring Dr. Patrick Hwu, President and CEO of Moffitt Cancer Center.
This Conversation with a CEO event will feature Dr. Patrick Hwu, the president and CEO of Moffit Cancer Center, one of the nation's leading cancer hospitals and the only National Cancer Institute-designated comprehensive cancer center based in Florida.
Dr. Hwu is an internationally recognized tumor immunologist, who has led pioneering research and clinical efforts to better understand the interactions between tumors and the immune system. He helped launch the field of gene modified T cells, publishing research on the first chimeric antigen receptor directed against cancer. His work focuses on vaccines, adoptive T-cell therapies and immune resistance.
Register for this IN-PERSON event to learn more about Dr. Hwu's 17 years of leadership experience and proven track record leading collaborative teams to make breakthroughs in science while improving cancer outcomes for cancer patients.
Read More