OPEN Conversation with the Caravan Stage Company Creative Team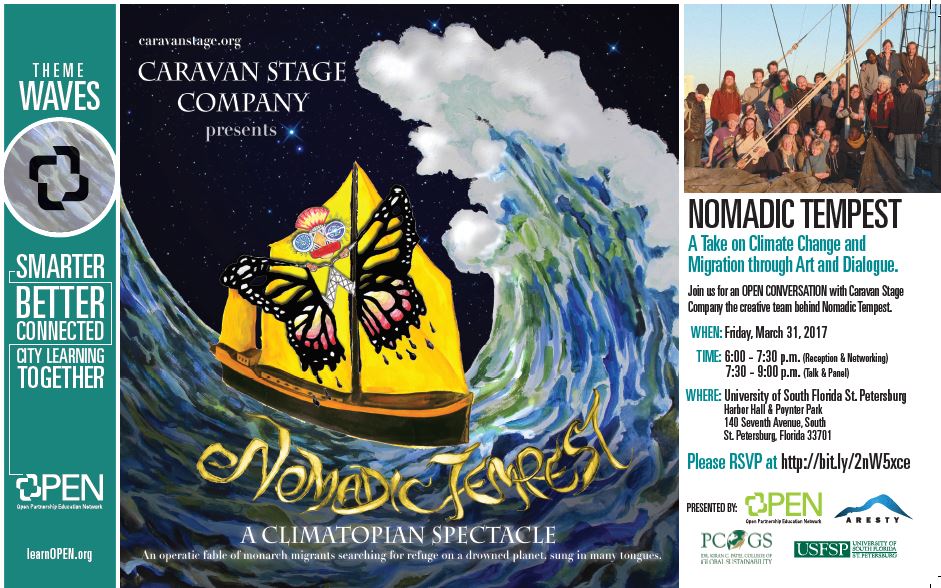 Join us for an OPEN Conversation Microevent with the creative team of Caravan Stage Company as they share their inspiration for their latest production, Nomadic Tempest. The event is FREE, please RSVP.
OPEN will host an enlightening conversation with the founder of Caravan Stage Company, Paul Kirby, as we explore the intersection between the art and the topics this timely work represents. He will be joined on a panel by Dr. David Randle, Director of the Patel College of Global Sustainability and Dr. Ella Schmidt, Associate Professor of Anthropology at the University of South Florida.
The talk begins at 7:30; a reception with free refreshments will be held from 6:00-7:30.
The Caravan Stage Company, founded in 1970, is launching a new show for its 47th season … NOMADIC TEMPEST, a Fable created for audiences of all ages, from 10 to 100. Debuting April 4th in Poynter Park next to USF St. Petersburg, this production will showcase the spectacle of four aerial artists gyrating, contorting, dancing, and flying through the sky above the decks of the Amara Zee, the Caravan's 100ft long theatre ship currently moored at Poynter Park.
Nomadic Tempest will feature the mythic saga of a band of Monarch Butterflies as a metaphor for refugee migrant characters struggling through their annual pilgrimage, journeying over a Land caked with consumptive delights, clamorous raptures and raging racism … a Planet engorged with many species rushing to stake their claim on a patch of paradise… The Land of SwallowWart!
Read More