There is a Better Way – With Roxanne Meadows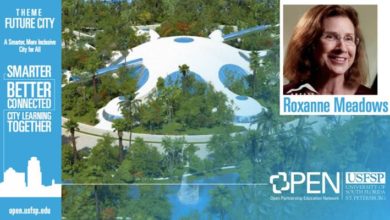 Roxanne Meadows
Futurist, Architect & Social Engineer ~ The Venus Project
By designing circular cities, supported by a "sharing" or "resourced based" economy, Roxanne Meadows and renowned futurist and industrial designer, Jacque Fresco, propose we can build a more positive, inclusive culture. One that strives toward the maximum benefit of both people and planet, and beyond the politics, poverty and war consistently created by our current paradigm.
As part of the Open Partnership Education Network's FUTURE CITY theme, powered by Duke Energy, Roxanne Meadows will present the concepts behind the design of The Venus Project, a 21-acre research and planning center, that's function is to find alternative solutions to the many problems confronting our world today.
Ms. Meadows will present an alternative vision of what the future can be if we apply what we already know to direct our technology and resources towards designing a more sustainable global civilization.
"I cannot predict the actual future — only what it can be if we manage the earth and its resources intelligently." — Jacque Fresco
Where is this sustainable future city being modeled? Right here in Florida, just two hours south of St. Petersburg at The Venus Project.
Come join us as we explore the possibilities.
Read More
Go to Event