Empowerment in Action | In Celebration of Pride Month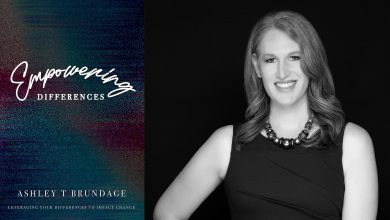 Join local author and educator Ashley T Brundage for an evening of Empowerment in Action.
The Oxford Exchange Champagne Bar, shop and bookstore will be open during the event. The restaurant will be closed. Lite food will be available.
Participating Organizations
Tampa LGBT Chamber of Commerce
About
Ashley T Brundage started her second career as a means of survival. Fighting discrimination, harassment and homelessness she found employment as a part time bank teller then rose to national VP of Diversity and Inclusion in less than five years. She captured this four step process of using empowerment to cultivate change in her new book and online course called Empowering Differences. Personally she enjoys time with her wife of nineteen years and their two teenage boys.
Since beginning transitioning in 2008, she has worked tirelessly to promote awareness and acceptance of gender identity and expression. She works to accomplish this goal by volunteering in the community, and holding education sessions for corporations. She serves on the Corporate Advisory Council for the NGLCCNational LGBT Chamber of Commerce. Also is the co-chair for NGLCC's new global Trans+ Inclusion Task Force. She chaired the successful bid to host the NGLCC convention in 2019, and Visit Tampa Bay named her their Tourism Champion for 2017. In 2018, she started serving on the board of the Florida Museum of Photographic Arts. In 2019, she was voted on the National Board of Directors for GLAAD. GLAAD works to accelerate acceptance for the LGBTQ+ Community through media advocacy.
Ms. Brundage speaks locally and nationally about her transition, workplace equality, leadership, and diversity & inclusion. She has also been interviewed in several publications and media outlets, including Tampa Bay Times, Watermark Magazine, Creative Loafing, The Tampa Bay Business Journal, The Miami Herald, Fox 13 News Tampa, ABC News 7 Ft Myers, CBS 10 Tampa, Las Vegas Review Journal,Milwaukee Biz Times, the Daily Beast, Fairygodboss, and a feature story with Bloomberg Businessweek in2019.
Ashley has been recognized in many areas and has received numerous awards including: The University of South Florida 2014 Community Pride Award, 2015 St Pete Pride Grand Marshal, 2015 Commendation-City of Tampa, 2016 Tampa Bay Business Journal Business Woman of the Year, 2016 Voice for Equality Award from Equality Florida, and LGBT Leadership Award from the Florida Diversity Council. In 2017, she was awarded a Leadership Award from Metro Inclusive Health. Also in 2017 she was a winner of the Inaugural People First Award by the Tampa Bay Business Journal, and the TBBJ Power 100 list, the most influential and powerful people in business. In 2018, she was given the Champion Award from international non-profit Out & Equal as well as named one of Florida's Most Powerful and Influential Women from the National Diversity Council. In 2019, she was named one of the Top 40 under 40 in the LGBTQ community nationally by Business Equality Magazine, TBBJ Outstanding Voice for the LGBTQ community and the Inaugural Transgender Rising Star by Trans New York.
Follow her on social media @AshleyTBrundage.
Justice Gennari (He, Him, His) is the Immediate Past Chair and the current President & CEO of the Tampa Bay LGBT Chamber, previously known as the Tampa Bay Diversity Chamber of Commerce. Since joining the Tampa Bay LGBT Chamber, they have seen it grow in recorded numbers and achievements, include hosting the National LGBT Chamber of Commerce International Business and Leadership Conference in 2019 and being awarded the first ever Challenge Grant from NGLCC. Justice is responsible for the vision, strategic direction and overall operations of the Chamber. He leads the Chamber's mission to "advance common business interests, economic growth, and equality in the workplace and society."
In addition to his role, he is also the Founder and Managing Director of Justice Gennari & Associates, a certified LGBTBE. Prior to these roles, he has worked for the VIA International, YMCA, Starbucks, Best Buy and more.
Justice is a board member of Tampa International Gay & Lesbian Film Festival, YMCA, advisory board member of the NFL Business Connect Program, Synapse Florida, and Equality Florida's Equality Mean Business. He is a past board member of the Ybor Chamber of Commerce, and the Ybor City Development Corporation.
He presently lives in Tampa, FL with his partner Eric and their dog Tucker.
We hope you'll join us!
Read More
Go to Event