Learn more about preparing your landscape for the right climate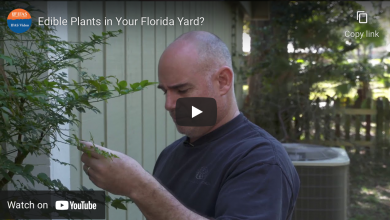 This event is in Pinellas County and Drive-thru, offered periodically!
Did you know Tampa Bay and the surrounding counties average 50-60 inches of rain annually? Your Florida-Friendly Landscaping™ expert Jonathan Prieto will explore practical, low cost approaches to prevent stormwater runoff, reduce pollution and harness our most precious resource. Join us to learn more about rainwater harvesting and to prepare your landscape for the summertime wet season.
Rain Barrel Purchase:
Please note:
-Class attendance is prerequisite for rain barrel purchase
-Barrels are only available to Pinellas County residents
-Only one barrel per household
Recycled plastic 55-gallon food-grade drums (rain barrels) are available for purchase at $45.00 each. You may purchase one rain barrel online through this registration. Rain barrel pick-up will be Friday, January 22, 2021 immediately after the class . Information about drive-thru rain barrel pick-up schedule and location will be provided to Rain Barrel Ticket purchasers by email during the week of the event.
Ethnic background and racial information are collected to comply with Federal reporting requirements for Extension programs. Extension programs are open to all persons without regard to race, color, sex, age, disability, religion, or national origin.
Pinellas County complies with the Americans with Disabilities Act. If you are a person with a disability who needs any accommodation in order to participate in this class you are entitled, at no cost to you, to the provision of certain assistance. Prior to two working days before the class, please contact the Office of Human Rights, 400 S. Fort Harrison Ave., Suite 500, Clearwater, FL 33756, (727) 464-4062 (Voice/TDD).
Cancellation Policy: Programs, workshops, and events are subject to cancellation if a minimum number of attendees are not registered. Cancellations will be posted on Eventbrite and an email will be sent to registrants.
Go to
https://sfyl.ifas.ufl.edu/pinellas/
for more information.
If you have any questions, please contact us at 727-582-2517 or jprieto@pinellascounty.org
Eventbrite registration is not available for this event. This page is for information only. Please use the link above to register for the webinar. Registration is required.
Register for the Webinar:
Read More
Learn More
Register for the Webinar: https://gardeningsolutions.ifas.ufl.edu Did you know Tampa Bay and the surrounding counties average 50-60 inches of rain annually? Your Florida-Friendly Landscaping™ expert Jonathan Prieto will explore practical, low cost approaches to prevent stormwater runoff, reduce pollution and harness our most precious resource. Join us to learn more about rainwater harvesting and to prepare your landscape for the summertime wet season. Rain Barrel Purchase:
Go to Event