How the City Buys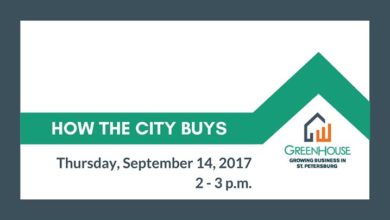 The City of St. Petersburg's Procurement & Supply Management Department has automated its entire procure-to-pay process. In this class, suppliers will learn how the City sources its supplies and services and how to communicate effectively with the City.
iSupplier Portal
In this workshop, suppliers will learn not only how to register as a city supplier, but also to use the city's iSupplier Portal for two-way communication with the procurement staff. The class will teach suppliers how to view purchase orders, view invoices and payments, contact procurement staff and update profile information.
Online Bidding
The online sourcing module enables suppliers to do the following: receive notifications of Requests for Information (RFI), Request for Quotations (RFQ) and Invitation for Bids (IFB); complete and submit RFI, RFQ and IFB online; and communicate directly with procurement staff in order to get answers to questions or receive information related to a solicitation.
This is a required workshop for certification as a City of St. Petersburg Small Business Enterprise (SBE). All are welcome to attend.
Speaker: Jossie Rodriguez, City of St. Petersburg, Florida USA, Procurement Department
**Please Note:
This is a FREE event, but registration is required. Thank you!
Read More
Go to Event