Inaugural Tampa Heights Cultural Fest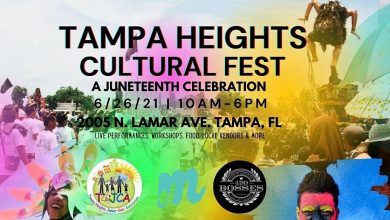 A festival experience featuring the culture of Tampa Bay!
The Tampa Heights Cultural Fest: A Juneteenth Celebration is an explosion of arts, live entertainment, wellness activities and food. Tampa Heights neighborhood has gone through many transitions over the past decades. Today, development is drastically transforming the community and in turn impacting the diversity that has always been its hallmark.
Here is your opportunity to soak up the culture of "The Heights" with performances by local artists and one-of-a-kind gifts from vendors in the area.
10am – (Festival Begins)
Schedule: COMING SOON
THCF is family-friendly and pet-friendly, too. Admission is free. Registration is limited due to COVID-19 precautions. You must register in advance and check-in at the registration tent.
If you're interested in being a featured artist or vendor, please fill out the application by May 22, 2021.
Read More
Go to Event