Mayoral Candidates Confront St. Pete's Housing Crisis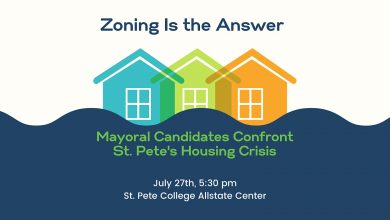 "Zoning is the Answer" – St. Pete Mayoral Candidates Confront St. Pete's Housing Crisis
Hosted by a Collaboration of Community Partners
Tuesday, July 27, 5:30-7pm
St. Pete College Allstate Center
3200 34th Street South
The price of homes in St. Pete rose 65% over the last five years.
Rent increased 15% from 2019 to 2020.
40,000 St. Pete families pay more than a third of their income on housing alone.
In St. Pete, the mayor has more power than anyone to improve this picture. If they're elected, what will these potential mayors do to make change happen?
"Zoning is the Answer" is sponsored by:
Council of Neighborhood Associations-CONA, Deuces Live, Faith and Strength Together-FAST, the St. Pete Chamber of Commerce, 22 South, Edge Central Partners, NAACP, St Petersburg College, Neighborhood Home Solutions, Bandes Construction, Habitat for Humanity, Barkett Realty, One Community/Power Broker Magazine, YIMBY St. Pete – Yes In My Back Yard, CHAF Properties, Boley Centers, Bright Community Trust, Feldman Equities, Tampa Bay Builders Association, Florida Suncoast Sierra Club and the St. Pete Catalyst
Read More