Perspectives from the Eye of the Storm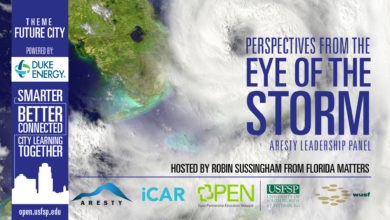 Maria. Irma. Florence. And now Michael.
Mayors from hurricane impacted cites who have dealt with the realities first hand, share what's working, what's not and what needs to be done next, for all of us to weather the storm more effectively.
Join Florida Mayors from St. Augustine, Naples, Sarasota and St. Petersburg as they serve as an Aresty Leadership Panel for the Opening Keynote at this year's iCAR Conference
4th Annual iCAR Conference – (Initiative on Coastal Adaptation and Resilience)
Reports from the Frontier – Lessons Learned from Hurricanes: Preparation, Recovery and Resilience
Aresty Leadership Panel: Perspectives from the Eye of the Storm
Featuring: 
Liz Alpert, Mayor of Sarasota
Bill Barnett, Mayor of Naples
Nancy Shaver, Mayor of St. Augustine 
and our own Rick Kriseman, Mayor of St. Petersburg
Date: Tuesday, October 30
Time: 11:00 am – Registration & Networking
12 noon – 1:30 pm Keynote Mayor's Leadership Panel
Place: University of South Florida St. Petersburg
University Student Center (USC) 2nd Floor Ballrooms
200 6th Ave. South, St. Petersburg, FL 33701
Free & Open to the Public.
For information about the entire 2-day conference (also free!) go to: http://www.usfsp.edu/icar/icar-2018/
iCAR is Presented by:
The Initiative on Coastal Adaptation and Resilience (iCAR), USF St. Petersburg, Gamma Theta Upsilon, the Tampa Bay Regional Planning Council ONE BAY Resilient Communities Working Group, and the Open Partnership Education Network (OPEN)
Read More
Go to Event