Reclamando (Reclaiming) Our Narrative through Words #5 (HYBRID)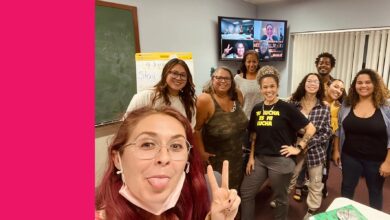 Writing and community sessions to equip attendees with tools, strategies, and language that impact the Latinx communities.
VIRTUAL AND IN PERSON ENGAGEMENT WITH (en español mas abajo)
Mi Gente Mi Pueblo; Reclamando (reclaiming) our Narrative: Healing and Change through the Power of Words
This free workshop series offers a space centering the Latinx community to claim their stories, promote healing and belonging, and mobilize participation in racial equity, unity, and advocacy.
Since December 2021 and through to May 2022, Latinx Writers, ruby pacheco and Rose Cervantes, will create an inclusive space to reflect on every-day experiences, foster dialogue around a shared narrative, and amplify Latine stories.
Participants can register for a single workshop or multiple sessions (as they are made available). Workshops are free and hosted in-person with virtual participation available.
Session topics range from intersectionality, generational trauma, community healing, to how words can fuel social change. All spectrums of age, race, class, gender and ability, who are committed to amplifying Hispanic stories and equity are invited to discover the healing power of their narratives.
For more information or questions, visit www.migentemipueblo.com
Follow us on Instagram @migente_mipueblo or
Facebook @https://www.facebook.com/Mi-Gente-Mi-Pueblo-101115879210185
EN ESPAÑOL
Mi Gente Mi Pueblo está ofreciendo una serie de talleres libres de costo donde la comunidad Latine podrá afirmar sus historias, promover sentido de pertenencia y movilizar participación en la unidad, abogacía y equidad racial.
Desde diciembre 2021, las escritoras Latinx Ruby Pacheco y Rose Cervantes, han estado creando un espacio inclusivo para reflexionar sobre el día a día, fomentar el diálogo alrededor de narrativas compartidas y amplificar las historias Hispanas. Estos talleres continuarán llevándose a cabo hasta mayo 2022.
Las personas interesadas pueden registrarse para un solo taller o para varias sesiones (cuando se vayan haciendo disponibles). Los talleres son libres de costo, están siendo llevados a cabo en persona y a la vez, tienen espacio virtual disponible.
Los tópicos de conversación de los talleres van desde la interseccionalidad, el trauma generacional, la sanación comunitaria hasta cómo las palabras pueden impulsar el cambio social. Todos los espectros de edad, raza, clase social, género y capacidad, que estén comprometidos a amplificar las historias latinx, están invitados a descubrir el poder curative de sus narrativas.
Para mas información, visita www.migentemipueblo.com
Siguenos en Instagram @migente_mipueblo or
Facebook @https://www.facebook.com/Mi-Gente-Mi-Pueblo-101115879210185
April 30, 2022 -11:30amEST
May 21, 2022 – 11:30amEST
Read More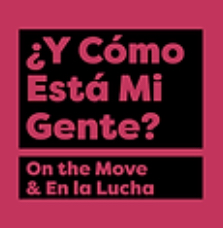 Go to Event