SEEDS Thought Leader Kick-Off & Happy Hour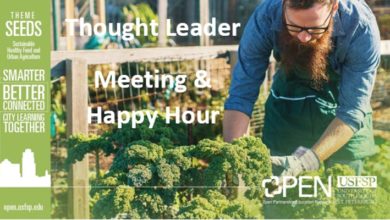 OPEN would like to invite you to the 2018 SEEDS Thought Leader Kick-off and happy hour
Wednesday, September 5th at the Iberian Rooster.
What's YOUR dream, idea, challenge, solution, innovation, or hope for sustainable, resilient communities in St. Petersburg and beyond?
Bring it into the OPEN – and join us for our Seeds Thought Leader Happy Hour!
We'll be gathering participants from last season's Seeds Team as well as new contributors interested in supporting the development of a community that is richly nourished with organic healthy local food and other systems that build connected, environmentally and economically resilient communities that thrive and grow…beautifully.
If you're ready to foster and connect next-level community dialogue around health, wealth, happiness and the human condition, create a critical mass of thought leaders that drive this dialogue year-round, and provide valuable insights to local residents, key leaders and policy-makers…this is the Theme Leader kickoff for you!
The OPEN team will be facilitating brainstorming sessions and discussions to help uncover what inspiration and resources our community needs to move the needle forward with urban agriculture and community resiliency.
We'll talk about policy initiatives, garden tours, educational events, projects and speakers we are planning for St. Pete during this year's OPEN season and Et Cultura festival.
YOUR participation is what helps this theme thrive and cultivate a community of connected citizens learning and growing together.
So, please join us if you're available! This event is free and open to the public. Please RSVP through the event link.
Timeline:
5:30 – 6:00 pm Reception & Networking
6:00 – 7:30 pm OPEN Seed Thought Leader Kick-off + Brainstorming breakouts
7:30 – 8:30 pm Seeds Theme Happy Hour
(Anyone from the community can join in to learn more about OPEN, Seeds and connect with our local Seeds Thought Leaders.)
To learn more, visit www.learnopen.org or check out this OPEN video.
Read More
Go to Event