St. Petersburg Black History Bike Tour
Pedal for a lesson in local Black history. "Enlightening, Informative, Inspiring." "A whole new perspective on my city." "Very Unique."
About this event
There are only 20 spaces for each tour Please email BlackHistoryBT@gmail.com to register. While dates and information are contained here on EventBrite, register directly with Josette at this email address. Please provide full name and email of each person you wish to register.
Please join the St. Petersburg Black History Bike Tour Facebook Group to get the latest on the tour and for notification of last minute openings that may not appear in Eventbrite. Plus new dates will be announced.
This tour combines the pleasure of biking, sharing a common experience with others and learning the fascinating history of a quarter of St. Petersburg's residents guided by local Historian Josette Green. In a 5 mile loop, the tour will visit the sites where Black history was made since the beginning of the city's history. Stand on the land, see the sites and learn about the segregation and experience that has continued through the years, segregation that was often sanctioned. Josette reveals the history aided by her research, photos, stories from those with lived experiences and knowledge of the area. The tour is 2 1/2 hours followed by lunch at Chief's Creole Cafe. The experience can be extended by a visit after lunch to the Woodson African American Museum of Florida next door. The tour is sure to expand one's understanding of race relations in this city and evoke continued conversation. Josette's goal for her community is to raise racial equity one bike tour at a time.
There are four action items in preparation for the bike tour:
The week prior to the event you will receive an email directly from Josette with a Waiver of Liability attached. Print, complete and bring with you to the tour. Each adult must complete one.
A helmet is required.
Find the right transport for your riding ability.
If you are not staying for lunch, let Josette know when you get her email.
What time should I arrive? The tour will start at 9:00 am at Chief's Creole Cafe at 901 22nd St. S.. in St. Petersburg. You are encouraged to arrive early to have time to get your bike and self in position for the start time.
When does the tour end? We start with the bike tour which returns to Chief's Creole Cafe where we will have lunch and enjoy a talk. We typically end between 1:00 and 1:30 PM.
Tell me more about lunch. The Creole Cafe has a beautiful New Orleans outdoor courtyard to enjoy lunch. During lunch, the group will be treated to a talk on the lived experience in St. Pete by the restaurant's owner and life long resident, Mr. B. (Brayboy). His talk is the highlight. If you are not able to stay, let Josette know when you receive her direct email the week prior. She has to turn a headcount into the restaurant the day before.
Manual or Electric? Josette learns with every tour and now realizes that unless one is a regular biker, electronic transport is the way to go. Five miles is very difficult for someone that hasn't ridden a manual bike for a month or two let alone years. Do yourself and the group a favor and use an electric bike, electric scooter or electric cart. You'll enjoy the tour so much more too.
What should I bring? Your own bike, a helmet and an open, positive attitude. One must have all of these items or you won't be able to ride. A bike can be electric or manual or if you choose another type of ride, it must be able to legally ride on both streets and sidewalks. Also bring water and sun protection.
How much does it cost? The tour is free with suggested donation. Josette is doing this as a volunteer to benefit the community. Bike tours in St. Pete average $55-75 for a tour of comparable quality and time. Lunch is your cost.
What about bathrooms? The available bathrooms are toward the end of the tour. If you drive a distance to get to the starting location, the restaurant is not yet open for bathroom access so make a bio stop before arriving.
Safety: Your safety is top priority. Bikers are subject to the rules of the road when on the street which means stopping at all red traffic lights. The course utilizes the Pinellas Trail/City Trail as much as possible. In locations where streets are narrow or in opposite traffic, the sidewalks will be used. A helmet MUST be worn.
COVID Precautions: Josette takes the virus seriously and is vaccinated. Please take whatever precautions you need to best protect yourself and to feel comfortable within this group. Please social distance, wear a mask if you choose and all activities are outdoors. The restaurant employees are all vaccinated and wear masks.
What if I need to cancel or change to a different date? Just cancel your Eventbrite reservation and register for another date. It's important to communicate rather than not show up because there are only 20 spaces. By canceling, it allows others to sign up and take your place. The tour is in demand and people are being turned away.
Read More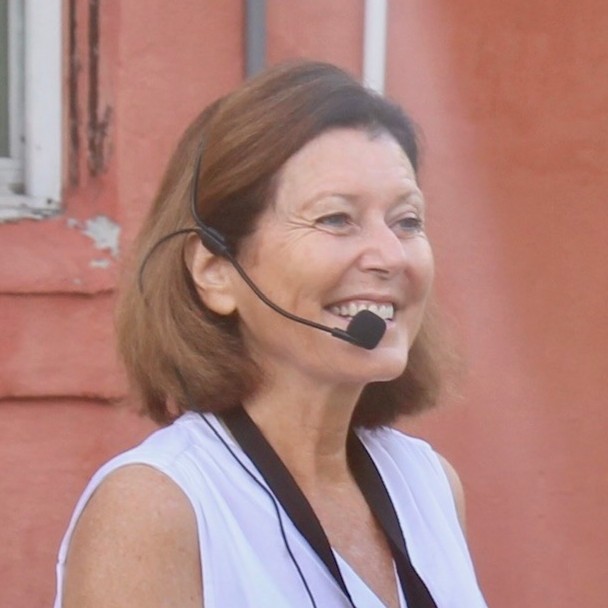 Go to Event