Stacy Pearsall: Combat from behind the Camera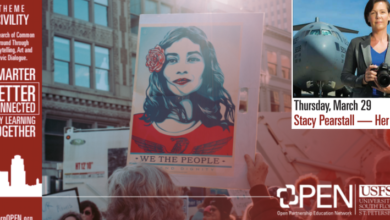 OPEN is proud to partner with Ann Wykell to invite one of the most decorated combat photographers of our time, Stacy Pearsall, to share her remarkable experiences with our community.
Beyond documenting humanitarian relief missions, Special Forces operations and telling stories of grief and tragedy, she had to prove her mettle every day to demonstrate she deserved a position among the men.
Pearsall speaks about overcoming sexual harassment, marginalization, and gender bias to become the first female to win Military Photographer of the Year, twice.
As part of the Open Partnership Education Network's CIVILITY Theme, OPEN partners with Social Sector Solutions in search of common ground through storytelling, art and civic dialogue. Together we welcome Stacy Pearsall to USFSP for a lunch time presentation titled: The Best of Me: A Woman's Journey in a Man's World.
The author of two books: "Shooter: Combat from behind the Camera" and "A Photojournalist's Field Guide: In the Trenches with Combat Photographer Stacy Pearsall," Stacy spends much of her time traveling coast to coast, documenting our nation's heros as part of the Veterans Portrait Project (VPP).
The award-winning Veterans Portrait Project (VPP) began while Pearsall rehabilitated from combat injuries sustained in Iraq. Spending hours in VA waiting rooms surrounded by veterans from every generation and branch of service, Pearsall was compelled to honor and thank them in the only way she knows how, photography.
Read More
Go to Event