Tampa Bay Summit on Human Rights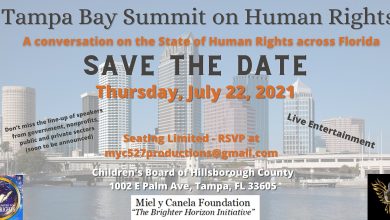 A conversation with leaders of government, nonprofits, public and private sector on the state of Human Rights across Florida.
There are many organizations, efforts, initiatives, government agencies, and programs, that for years, and still today, advocate for Human Rights. Initiatives and collaborations have impacted laws, people, and communities but still, in the 21st century, there is so much more we need to do. In fact, our State – Florida – is ranked 3rd in the nation in human trafficking, childrens' and parent's rights are at risk of being violated, and violence continues to rise in our communities.
The purpose of this dialogue is to, in unity, find the answer to the most important question of the continued violation of human rights in this State – Why and how do we solve it on a local level?
The goal is to establish the need to come together to identify and eliminate the gap(s), and for Florida to be the model State for zero tolerance of violations of human rights.
Together we can defeat the epidemic of human trafficking in our backyards, we can help children and families, we can focus on mental health healing, chilrens' rights, parents' rights, domestic violence, homelessness, and more.
Through this dialogue, we will see what is being done to solve these issues, what more needs to be done, and how these actions are impacting our community and bringing about a social reform.
Guest Speakers include:
– Harry Cohen, Hillsborough County Commissioner
– Rainey Nave, Vice President Bikers Against Trafficking Int.
– Christopher King, President United for Human Rights Florida and grandson of the late blues Legend B.B. King
– Zarai Maza, Executive Director Guardians of Human Rights
– Real Kunene, Founder Rise to Greater Heights Network
– Prentice Boyd, Director Seniors Community Outreach
– Linda Perez Davila, President Boricuas de Corazon
– Jennifer McMahon, Partnership Development Manager Hope for Justice
– and others!
We will have live entertainment
Lunch will be provided
Networking and elevator pitches are welcome and encouraged! Bring your business cards!
If you're interested in having a vendor table for your non-profit or organization please contact us directly (limited spots): Tampadirector@humanrights.com
Co-Hosts:
United for Human Rights
Rise to Greater Heights Network
The Brighter Horizon Initiative
Read More
Go to Event