Thomas Pickering: 33 Years as a Diplomatic Fireman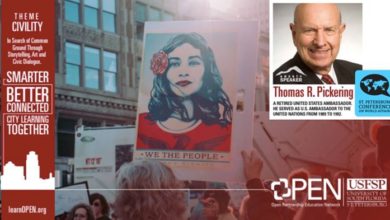 U.S. Ambassador Thomas R. Pickering, one of the most celebrated diplomats in our nation's history, will be the Open Partnership Education Network's distinguished Aresty Speaker, as he opens this year's St. Petersburg Conference on World Affairs with a keynote about the Challenges and Opportunities in American Foreign Policy today.
"In today's world of digital and virtual relationships, there is still no alternative to old-fashioned human interactions — not in business, romance, or diplomacy." — Thomas R. Pickering
"The real question is not whether the State Department is still relevant, but how we can sustain, strengthen, and adapt the tradecraft for a new century unfolding before us."
Join us Tuesday 2/20 at 6:30 pm, and learn how the ability of American diplomats to help interpret and navigate a bewildering world…still matters.
To see the full schedule or register for the rest of the World Affairs Conference on Wednesday, Thursday, and/or Friday, please go to: http://www.stpetersburgconferenceonworldaffairs.com
(The entire conference is free and open to the public!)
(Seating is first come, first served.)
Read More
Go to Event