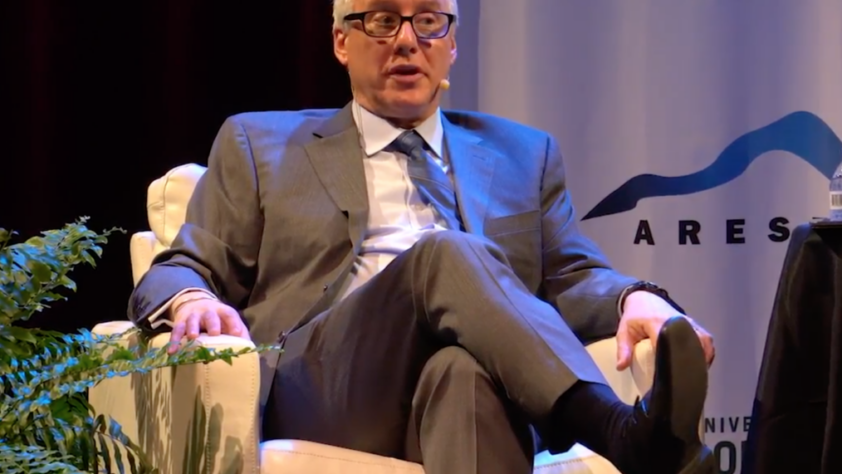 NPR's Marketplace host David Brancaccio talks Sharing Economy and Tectonic Shifts in Workforce
Aresty Speaker, David Brancaccio, acclaimed reporter, author, speaker and storyteller indulged audience members with his wit, humor and candid discussions on the sharing economy and the shift of a technologically advanced workforce.  
Hosted by the Open Partnership Education Network (OPEN) and WUSF Public Media, Brancaccio discussed his own story and economic perspective to a sold out audience at St. Petersburg College's Palladium Theatre.
Brancaccio, the Host and Senior Editor of NOW on PBS, Host of Marketplace Morning Report, as well as a multi-award winning investigative reporter, highlighted how the rapid shift in a gig economy will alter how we educate, work and even live, now and in the future.  
He cited how the advancement of new economies and technology matched with the desire for people to work with social purpose is growing at a rate that current paradigms are not caught up with at this time.  
He noted that this shift is causing confusion and anxiety, yet the importance for people to train for and learn this new standard in a way that will allow current and future workers to move into this economic frontier with more ease. Brancaccio says that "one of the things that we need to do better at in America is making this whole world of money and economics accessible to all."
Specifically, he highlighted Bitcoin and it's need to be better understood, utilized and ultimately welcomed into our social and business arenas. 
Brancaccio stayed long after his talk to speak with retirees, business leaders and students alike. 
Click here to learn more about the event. 
Related Post
As many who contributed to the OPEN program in its earliest days know, the vision of learnOPEN was to apply the philosophy of open source th...
Following a period of partnership growth, transition, and hibernation due to COVID-19, the Open Partnership Education Network (OPEN) will em...
This article is authored by City Planner Robyn Keefe. The opinions expressed herein are the views of the author and do not necessarily repre...