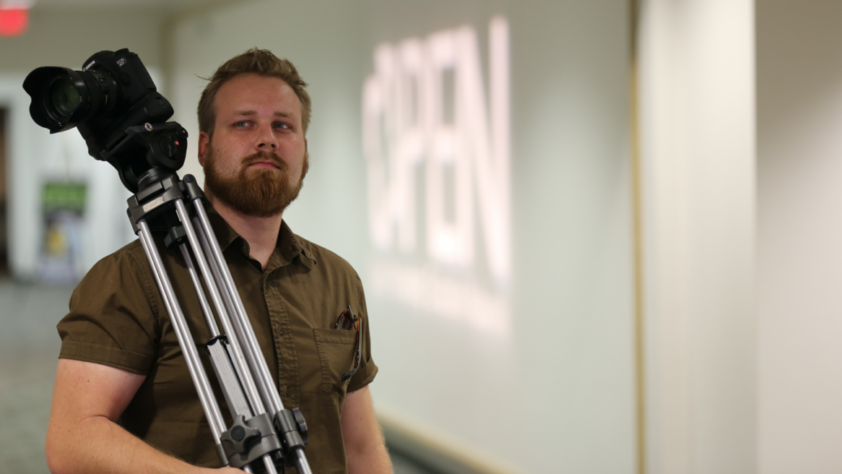 OPEN Program emerges from the University of South Florida
Following a period of partnership growth, transition, and hibernation due to COVID-19, the Open Partnership Education Network (OPEN) will emerge from its original birthplace at the University of South Florida in the fall of 2021. OPEN begins its new life with immense gratitude for the vision of its original benefactor Mr. Jim Aresty, and for our heritage and relationships forged over time. We are excited to continue the mission of supporting a smarter, better connected community, learning together.
OPEN's NEXT CHAPTER
After multiple forums and events with international thinkers– including Pulitzer prize winners, journalists, futurists, city planners, educators, crypto pioneers, urban farmers, acclaimed authors, and more–OPEN embarks on an exciting new chapter as an independent learning media company. As an independent enterprise, learnOPEN will operate as a hybrid 501(c)3 nonprofit organization and a Benefit Corporation.  The former will continue offering community-led cultural events of an intellectual nature at little or no cost to the public, with an anticipated OPEN Season held each year, and curated via open source with input from local thought leaders.  The Benefit Corporation will focus on sharing and augmenting learning experiences through rich media and emergent technologies, including a beta learning management and credentialing system for community-based learning.  We expect OPEN to evolve from its St. Petersburg roots to offer a platform in other cities.   The official OPEN Whitepaper articulates a comprehensive vision for open source community learning.
ABOUT OPEN
The Open Partnership Education Network, originally developed out of the University of South Florida St. Petersburg, transforms a city's best ideas, resources and people from silos of expertise and practice into a connected community of innovation and impact. OPEN's framework makes it easier for citizens to be informed, inspired, educated, trained, empowered and engaged in practical ways to address the issues we all face. OPEN-facilitated partnerships and events come to life throughout the year in every corner of a city through the following core frames: Explore – a collection of themes to explore and interact; Experience – a guide for learning experiences in the community; and Exchange – A place to transact resources to promote learning.
As its main heartbeat, OPEN offers themes, including SEEDS, Common Ground, Live Well, Frontiers, Rad Schools, and Future City. These topics offer abstracts motifs to collate ideas in a manner that lifts up a community voice while facilitating wider discussion and, ultimately, impactful solutions.
GET INVOLVED
Want to get involved? Find ways you can get involved, teach, learn, connect and make an impact in your community sign up for our newsletter , Facebook, or through a new Discord channel.

Related Post
As many who contributed to the OPEN program in its earliest days know, the vision of learnOPEN was to apply the philosophy of open source th...
Aresty Speaker, David Brancaccio, acclaimed reporter, author, speaker and storyteller indulged audience members with his wit, humor and cand...
This article is authored by City Planner Robyn Keefe. The opinions expressed herein are the views of the author and do not necessarily repre...