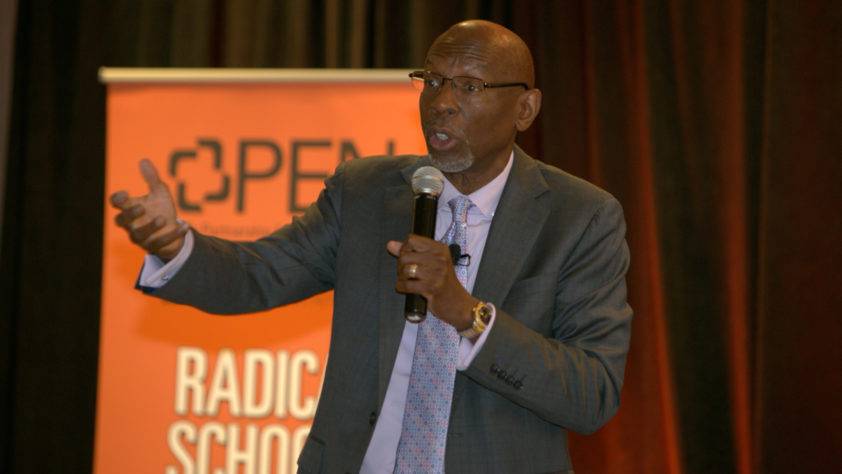 OPEN and EtC Disrupt K-12 Discussions with Rad Schools Jam
Introduced at the 2017 Et Cultura Festival, the RAD SCHOOLS JAM challenged the community to view K-12 education in a radically new way – from a school's physical design to its approach to curriculum, teaching and student engagement.   solution.
The Jam was headlined by Geoffrey Canada, the Aresty Distinguished Speaker for the Rad Schools theme and founder of the Harlem Children's Zone. Mr. Canada is a grass-roots influencer with a world-changing concept for education and experience to back it up.  Mr. Canada's approach lifts up communities through holistic stakeholder engagement and partnerships.
Throughout Friday of the Et Cultura Festival, OPEN invited leaders from local schools and the community to engage in the Rad Schools Jam.  Lectures and receptions were held at the downtown Hyatt.  In the afternoon the street in front of the hotel was transformed into a professional half-pipe skateboard arena. These amazing skaters and pro BMXers performed breath-taking feats of astonishing flight and agility.  The area was surrounded by music, the St. Pete Police Department's famous painting horse, open bike and skating contexts, antics of all kinds and general widespread fun.
More serious discussions during the afternoon's presentations included
Strategy Session with Geoffrey Canada -Leading education voice Geoffrey Canada met with local leaders across sectors to share ideas on how communities can work together to solve persistent challenges in urban education.
Youth Development– prominent thought leaders from Boston, NYC, New Orleans discussed the importance of developing the mind, body, and soul of youth.  Speakers included Dr. Fritz Ettl Rodriguez of Butler University (Indiana), Moriska Selby of Adventure Girls (New Orleans), Dr. Roger Harris of Boston University and the Boston Renaissance School, performing artist Alex Harris, and moderator Harris Ambush of the University of Both Florida St. Petersburg.
Future of School Design– Prominent educators, school designers and architects shared ideas on how we design schools and pedagogy that inspire learners.  Local education innovator and founder of the IndieEd school wowed the audience with her challenge to put students first, while school designers shared their ideas on how they are building spaces to do just that.
The day was capped off by a fun evening program of music and celebration that took place at the Jannus Theater across the street from the Hyatt Place.
During OPEN's Rad School's program of formal lectures and highly informal social activities, experts, students and concerned citizens explored new ideas and possibilities, formed new relationships, and rethought how teaching and learning might be applied to build our future education approaches. In this setting, amazing people with ideas to share met as a community to design education's future. Through fun, they grew to meet, like and engage with each other in new ways.
Rad Schools founder and OPEN's founding director Dr. Walter Fernando Balser summed up the event by challenging all of us to think different about schools and education.  "We have never had a better opportunity to innovate and inspire students than we have today," he noted, "we just have to share ideas and be brave enough to act on them.  And we have to put students first.  That is why we began this whole thing with a halfpipe and music, and that's why we invited these great athletes and artists to join us–in the community.  They embody art and bravery–and that's what we need more of in how we approach schools and learning.  Oh, and most importantly, lets have fun!"
And fun they had!   The Jam visited three local schools during the week and capped off with an evening of music at local venues throughout downtown St. Petersburg.
Related Post
As many who contributed to the OPEN program in its earliest days know, the vision of learnOPEN was to apply the philosophy of open source th...
Following a period of partnership growth, transition, and hibernation due to COVID-19, the Open Partnership Education Network (OPEN) will em...
Aresty Speaker, David Brancaccio, acclaimed reporter, author, speaker and storyteller indulged audience members with his wit, humor and cand...