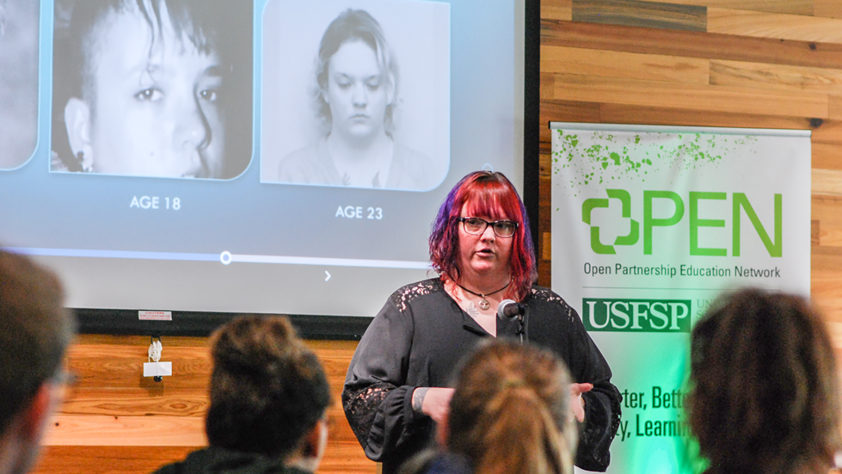 Civility Theme Kicks Off with No Home for Hate Event
OPEN continues to grow conversations about topics that matter in St. Petersburg and beyond. The 2018 year brings two more themes to OPEN – Civility and Frontiers (see related Frontiers posting).
The CIVILITY theme brings us together in search of common ground through storytelling, art and civic dialogue. Recognizing that words alone are often insufficient to communicate experiences, emotions and dreams – this theme encourages people to tell their stories in presentations and conversations, by using art forms of all types, and by holding our minds and hearts open to understand others more fully.
Throughout the year, OPEN will invite and host compelling speakers – beginning in January with Angela King, a former skinhead and co-founder of the Life After Hate organization.  To support Ms. King's work in St. Pete, OPEN partners with the Bishop Center and USFSP's Institute for Strategic Policy Solutions.  The No Home for Hate Event brought together students from both USFSP and St Petersburg College to talk about solutions to our society's current atmosphere of bigotry, intolerance, divisiveness and extremist violence. Through powerful stories of transformation and unique insight gleaned from her years as a former skin-head, King, co-founder of the Life After Hate organization, talked with students about the toll violent extremism and hate groups have on our society and how tolerance and understanding can overcome bullying and bigotry.
Bringing CIVILITY into the conversation of OPEN's multiple themes – SEEDS, RAD SCHOOLS, LIVE WELL and FUTURE CITY – bring all our work new approaches in style, background information, expressive diversity.  This helps us find new levels of understanding that enrich each topic and its programs as well as the actions we take individually.
OPEN's online and in person activities invite everyone to contribute to making St. Petersburg a safe, comfortable and caring city. Respect for others takes center stage as we provide a platform and showcase to explore ideas that are new, perhaps uncomfortable, often inspiring and always enlightening.
CIVILITY is an important component  in making St. Petersburg literally a smarter, better-connected city learning together – through OPEN.  Please join us.
Related Post
Aresty Speaker, David Brancaccio, acclaimed reporter, author, speaker and storyteller indulged audience members with his wit, humor and cand...
This article is authored by City Planner Robyn Keefe. The opinions expressed herein are the views of the author and do not necessarily repre...
Aresty Presenter, Jeff Speck, an internationally recognized urban designer, author and city planner, continues to shine his work on cities o...