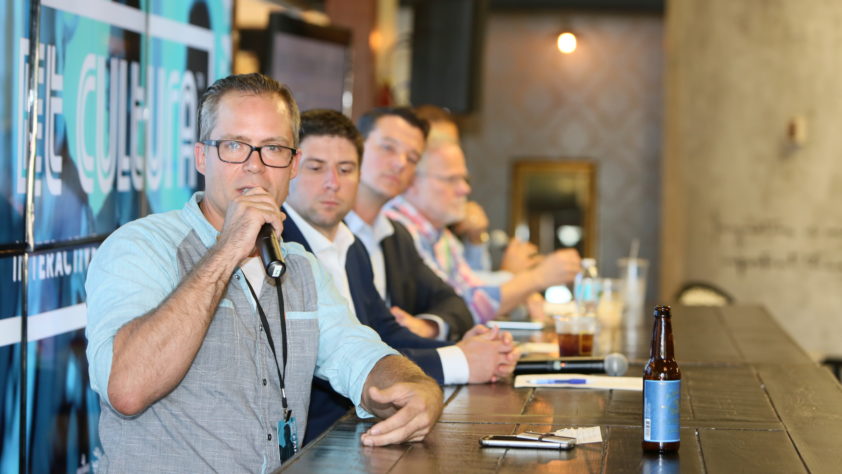 OPEN and Et Cultura Invite Leaders to Talk Cities, Transportation, Justice, and More
FUTURE CITY, a program that tapped into visions for resilient, compassionate, prosperous city life, was one of four themes presented as part of OPEN's inaugural 2017 year during the Et Cultura  Festival.  (https://www.facebook.com/etcultura/). Designed as a 'lunch and lecture' series, the Future City track was held over three days at Station House and the Dali Museum in downtown St. Petersburg between Wednesday, November 15th and Friday, November 17th.
Future City presenter and panelist sessions took place between 11 AM and 2PM each day. On Wednesday, the first day of the series, a small exposition of local businesses was presented at the Dali from 2 PM to 6 PM.  The mid-day format attracted business and academic communities who could easily drop in to sessions as their schedules permitted .  Over a dozen featured speakers and panelists talked on subjects ranging from architecture to social justice.
The mission of OPEN – to connect people online and in person around ideas that matter – took tangible form during these sessions. Wednesday's opening session – Small Is Big, the allure of local – set the tone by embracing St. Pete's distinctive home-grown culture that is appreciated by locals and visitors alike. The next session discussed affordable housing – how can St. Pete retain the culture it loves, and prosper financially, without displacing locals due to rising housing costs?
Thursday's two sessions focused on city design in light of social purpose. It's first session looked at social justice and the role of laws, courts, sentencing and post-release support.  These real concerns impact families, neighborhoods and an entire city.  The next session addressed how city planning, architectural design, a conscious purpose-focused approach to housing, laws and urban design can play a role in family and community cohesion.
Friday's session began with a discussion of local public and private transportation.  The theme's capstone presentation was delivered by Michael Sturtz, the Aresty Distinguished Speaker keynote a visionary artist and social planner from San Francisco. His distinctly out-of-the box approaches have impacted cities, large corporations and local communities, providing new ideas for old problems.
Future City – orchestrated and supported by OPEN – will continue its programming throughout 2018 to help St. Pete discover ways to address ongoing challenges such as sea level rise, disasters from climate and man-made causes,and human talent  being wasted when poverty, drugs or other social scourges take hold in one's life. OPEN and Future City provide a forum where all can meet to develop St. Petersburg life – for tomorrow and beyond.
Related Post
Aresty Speaker, David Brancaccio, acclaimed reporter, author, speaker and storyteller indulged audience members with his wit, humor and cand...
This article is authored by City Planner Robyn Keefe. The opinions expressed herein are the views of the author and do not necessarily repre...
Aresty Presenter, Jeff Speck, an internationally recognized urban designer, author and city planner, continues to shine his work on cities o...