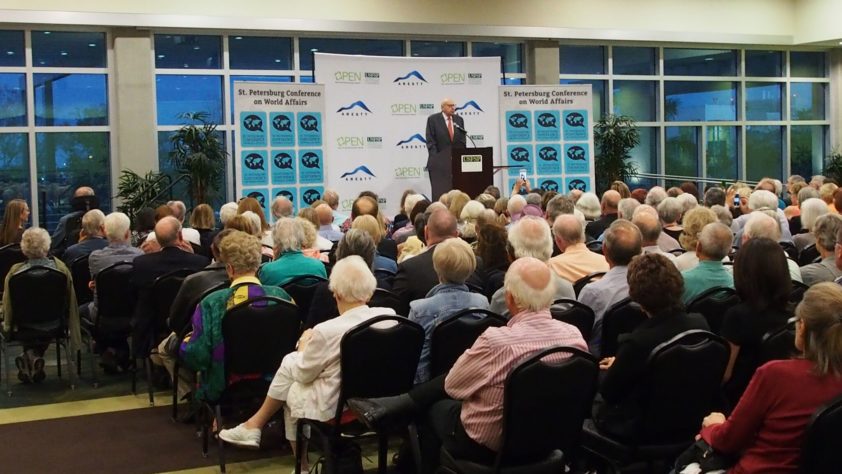 Ambassador Thomas Pickering the Aresty Keynote at 2018 St. Pete Conference on World Affairs
Thomas Pickering, Career Ambassador with over forty years of service to the U.S., headlined the St. Petersburg Conference on World Affairs annual gathering held on the USF St. Petersburg campus February 20th through Friday February 23rd.
In an active schedule of multi-day participation, Mr. Pickering keynoted the gathering's opening session Tuesday and participated in various panels on the following days that discussed issues and events in Russia, China, Israel and China.
The participation of Mr. Pickering, the event's Distinguished Aresty Speaker, was made possible by USFSP's OPEN – Open Partnership Education Network who hosted the ambassador.
Mr. Pickering has had a front row seat at key events that shaped world history over the last half century. While Mr. Pickering was the United Nations, Leslie Gelb of The New York Times declared that he was "arguably the best-ever U.S. representative to that body." Time Magazine has called him the "five star general of the diplomatic corps." No stranger to danger or criticism, Mr. Pickering has been the target of assignation threats in El Salvador, political controversies in the US over foreign policies, and confidant to presidents since serving Richard Nixon in 1973.
As his last post before retirement from the government, Mr. Pickering served as under-secretary of state for political affairs, the third highest post in the U.S. State Department.
Early in his Foreign Service career, Mr. Pickering served as special assistant to Secretaries of State William P. Rogers and Henry A. Kissinger, as well as an adviser to the U.S. delegation participating in international disarmament talks. In the 1970s and 1980s, Mr. Pickering went on to serve as U.S. ambassador to Jordan, Nigeria, El Salvador and Israel. From 1989 to 1992, he served as U.S. ambassador to the United Nations. In the early and mid-1990s, he served as U.S. ambassador to India and then as ambassador to the Russian Federation.
Today, Mr. Pickering is a Member of the Global Leadership Foundation, an organization which works to support democratic leadership, prevent and resolve conflict through mediation and promote good governance in the form of democratic institutions, open markets, human rights and the rule of law. It does so by making available, discreetly and in confidence, the experience of former leaders to today's national leaders. It is a not-for-profit organization composed of former heads of government, senior governmental and international organization officials who work closely with Heads of Government on governance-related issues of concern to them.
Information about this meeting of the St. Petersburg Conference on World Affairs can be found at https://stpetersburgconferenceonworldaffairs.com/conference/2018-program-schedule/
Related Post
Aresty Speaker, David Brancaccio, acclaimed reporter, author, speaker and storyteller indulged audience members with his wit, humor and cand...
This article is authored by City Planner Robyn Keefe. The opinions expressed herein are the views of the author and do not necessarily repre...
Aresty Presenter, Jeff Speck, an internationally recognized urban designer, author and city planner, continues to shine his work on cities o...