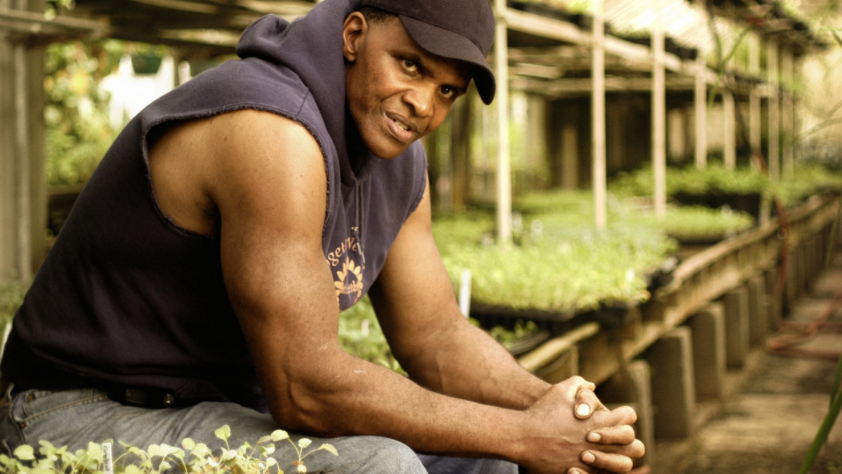 Will Allen, founder of Growing Power, hosted as Aresty Speaker in SEEDs Theme at Et Cultura
Will Allen has simple goals: to grow food, to grow minds, and to grow community.
And he is changing lives in the process. Mr. Allen – the author of The Good Food Revolution: Growing Healthy Food, People and Communities is using farming as a way to revitalize cities. Allen, the son of sharecroppers, has moved from professional basketball player to business and is now a world-recognized urban farmer and director of  Growing Power – an urban farming project in Milwaukee that incorporates with a 40-acre farm west of Milwaukee.
Mr. Allen started Growing Power in 1993 by purchasing a farm that existed within the city of Milwaukee. Today, this is a thriving business and community partner whose facilities include seven large greenhouses, a kitchen, indoor and outdoor training gardens, aquaculture system and a food distribution facility. Fish, worms, bees, goats, chickens, turkeys, and ducks are part of this complex. Growing Power conducts workshops and demonstrations in aquaculture, aquaponics, vermiculture, horticulture, small or large-scale composting, soil reclamation, food distribution, beekeeping and marketing.
Today, Growing Power provides hands-on training, outreach and technical assistance to develop Community Food Systems that help people grow, process, market and distribute food locally and sustainably.
In 2008, Mr. Allen was awarded the MacArthur Foundation 'Genius Grant' for his work on urban farming and sustainable food production.
Mr. Allen is bringing his inspiration, knowledge and experience to St. Petersburg. On Thursday, November 16, 2017 OPEN and the Et Cultura Festival host Will Allen, an Aresty Distinguished Speaker, as the evening keynote of its SEEDs theme. Local SEEDs activities are featured during day in venues across the Warehouse Arts District.
Related Post
As many who contributed to the OPEN program in its earliest days know, the vision of learnOPEN was to apply the philosophy of open source th...
Following a period of partnership growth, transition, and hibernation due to COVID-19, the Open Partnership Education Network (OPEN) will em...
Aresty Speaker, David Brancaccio, acclaimed reporter, author, speaker and storyteller indulged audience members with his wit, humor and cand...