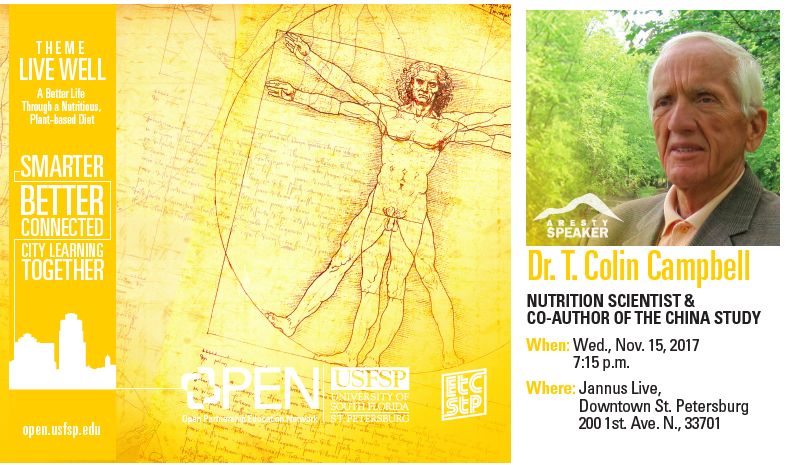 Dr. T. Colin Campbell and Nelson Campbell of PlantPure Nation to be Aresty Speakers for Live Well Theme Launch
The Campbells – father T. Colin, scientist and writer and son Nelson, social entrepreneur executive and documentarian –  lead a lineup of distinguished diet experts who together inaugurate the LIVE WELL theme at Et Cultura's 2017 festival on Wednesday evening, November 15.   Both men are brought to Et Cultura as part of the Aresty Speaker series – a program of the OPEN online initiative.
Dr. T. Colin Campbell

Dr. Campbell is the Jacob Gould Schurman Professor Emeritus of Nutritional Biochemistry in the Division of Nutritional Sciences at Cornell University and is best known for authoring the bestselling book The China Study with his son Thomas Campbell, M.D. He is the founder of the T. Colin Campbell Center for Nutrition Studies and the online, internationally recognized Plant­Based Nutrition Certificate offered by the T. Colin Campbell Center for Nutrition Studies in partnership with eCornell.

Dr. Campbell's expertise and scientific interests encompass relationships between diet and diseases, particularly the causation of cancer. Dr. Campbell has conducted original research both in laboratory experiments and in large­scale human studies and has authored over 300 research papers. He was trained at Cornell University (M.S., Ph.D.) and MIT (research associate) in nutrition, biochemistry, and toxicology. Dr. Campbell spent 10 years on the faculty of Virginia Tech's Department of Biochemistry and Nutrition before returning to Cornell in 1975. His legacy, the China Project, is the most comprehensive study of health and nutrition ever conducted.
Nelson Campbell
Nelson Campbell founded PlantPure, Inc. and with the vision of leading a grassroots movement to promote the health benefits of plant-based nutrition, Nelson Campbell founded PlantPure Communities.
Nelson graduated from Cornell University with a Bachelor's Degree in Political Science and a Masters Degree in Economics, then worked for 25 years as a socially conscious business entrepreneur.
He is the Executive Producer, Director and Co-Writer of the documentary film PlantPure Nation. This film examines the political and economic factors that suppress information about the benefits of plant-based nutrition, and makes connections to public policy, medical practice, food deserts, and farming.
Related Post
Aresty Speaker, David Brancaccio, acclaimed reporter, author, speaker and storyteller indulged audience members with his wit, humor and cand...
This article is authored by City Planner Robyn Keefe. The opinions expressed herein are the views of the author and do not necessarily repre...
Aresty Presenter, Jeff Speck, an internationally recognized urban designer, author and city planner, continues to shine his work on cities o...