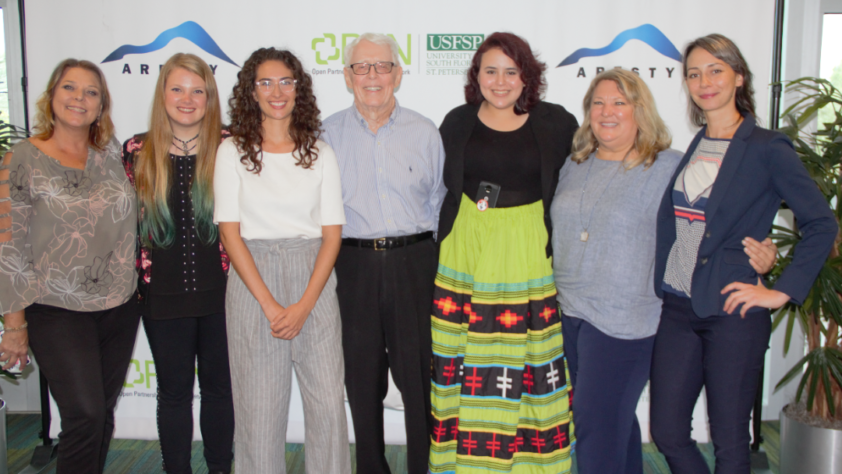 Youth Vs. State of Florida: Exploring The Legal Right to a Safe Climate
Today, kids are leading the charge for change by taking the government to court. On September 14th, 2019 – one week before the Global Climate Strike and UN Summit on Climate Change the University of South Florida St. Petersburg convened an OPEN Conversation with Delaney Reynolds (19), college student and lead plaintiff in Reynolds vs. State of Florida case. Called an "Eco Warrior" and one of the leading voices for the environment of her generation, this Marine Science major founded The Sink or Swim Project to educate and advocate for sea level rise and climate change solutions.
Following her presentation, a there was a panel discussion with several others actively engaged in Florida's climate solutions, including Alexandria Hancock, Sustainability Coordinator with the City of St. Petersburg, and Dick Jacobs, a retied layer, businessman and activist.
Our guest advocates shared stories about what inspires their work, the opportunity for social movements to embrace inter-generational collaboration, and the role of youth advocacy in the climate crisis.
You can listen to the conversation in two parts:
Delaney Reynolds Presentation on Facebook Livestream:  https://www.facebook.com/watch/?v=667361600440888
Related Post
As many who contributed to the OPEN program in its earliest days know, the vision of learnOPEN was to apply the philosophy of open source th...
Following a period of partnership growth, transition, and hibernation due to COVID-19, the Open Partnership Education Network (OPEN) will em...
Aresty Speaker, David Brancaccio, acclaimed reporter, author, speaker and storyteller indulged audience members with his wit, humor and cand...