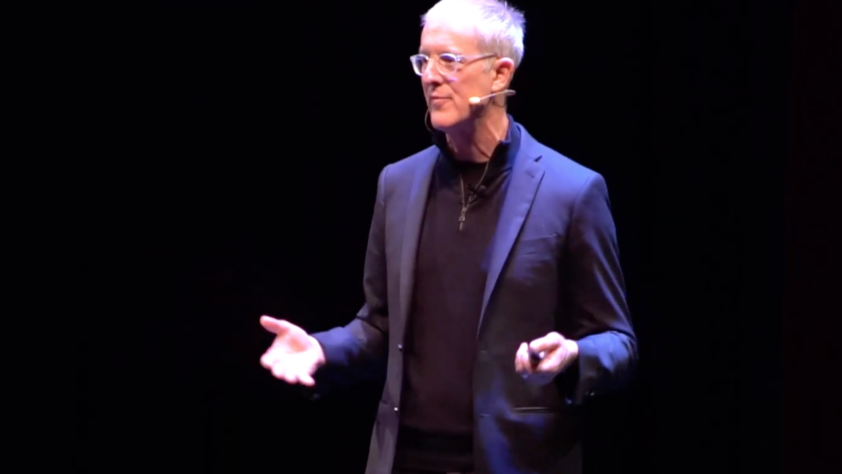 Urban Designer & Author Jeff Speck shares ideas on preservation and city uniqueness
Aresty Presenter, Jeff Speck, an internationally recognized urban designer, author and city planner, continues to shine his work on cities of the future as he shared to a sold out OPEN (need live link) event at the Palladium Theatre in St. Petersburg, Florida. The event hosted by Preserve the 'Burg and the Open Partnership Education Network (OPEN) (need live link), illustrated the necessary steps and discourse to create a framework for future cities in our current urban ecosystems.
The increasing lack of walkability in American cities has led to dire health implications, economic drain, and a rapid and harmful decrease in civic engagement. Conversely, American cities that have embraced walkable urbanism are thriving.  
As cities evolve through rapid growth, technology and policy, Speck offers insights in how to do this where the people of the urban environment can still have a sense of connection through culture, transportation and sustainability.
A core element of Speck's message is the need to create vibrant cities that are created and driven by their own culture. He illustrates his position against the use of 'best standards' as a prevailing concept for urban cities, as he refers to this practice as a misguided concept which has led to a lot of cities looking and feeling the same.  He cites that a one-size-fits-all standard has worked against the ethos and uniqueness that lies within the city's vibrancy and culture. 
Speck's best-selling books, multiple talks around the globe and his decades of city and federal work on urban design led to a highly informative event and a wealth of experiential connections for the people in attendance. The event included the Mayor of St. Petersburg as well as many local thought leaders, and created an exciting pathway to creating more discussions and conceptual plans ahead. 
The Jeff Speck event will serve as a prototype for the OPEN Community Learning Exchange (CLE) Platform, and with other events, unite local thought leaders and partners to define the key takeaways that community members will continue to learn. This event was not the end, but just the beginning to open discussions on thriving cities and unique cultural opportunities.
For a complete video recap please click below:
More about Jeff Speck website – https://www.jeffspeck.com/
Jeff Speck is a city planner and urban designer who advocates internationally for more walkable cities.
As Director of Design at the National Endowment for the Arts from 2003 through 2007, he presided over the Mayors' Institute on City Design and created the Governors' Institute on Community Design. Prior to his federal appointment, Mr. Speck spent ten years as Director of Town Planning at DPZ & Co., the principal firm behind the New Urbanism movement. Since 2007, he has led Speck & Associates, an award winning private design consultancy serving public officials and the real estate industry.
With Andres Duany and Elizabeth Plater-Zyberk, Mr. Speck is the co-author of Suburban Nation, which the Wall Street Journal calls "the urbanist's bible."  His 2012 book, Walkable City – which the Christian Science Monitor calls "timely and important, a delightful, insightful, irreverent work" – was the best selling city-planning book of the past decade. Its sequel, Walkable City Rules: 101 Steps to Making Better Places, takes Walkable City from ideas into action, and was named a Planetizen "Top Ten Book of the Year."
Related Post
As many who contributed to the OPEN program in its earliest days know, the vision of learnOPEN was to apply the philosophy of open source th...
Following a period of partnership growth, transition, and hibernation due to COVID-19, the Open Partnership Education Network (OPEN) will em...
Aresty Speaker, David Brancaccio, acclaimed reporter, author, speaker and storyteller indulged audience members with his wit, humor and cand...