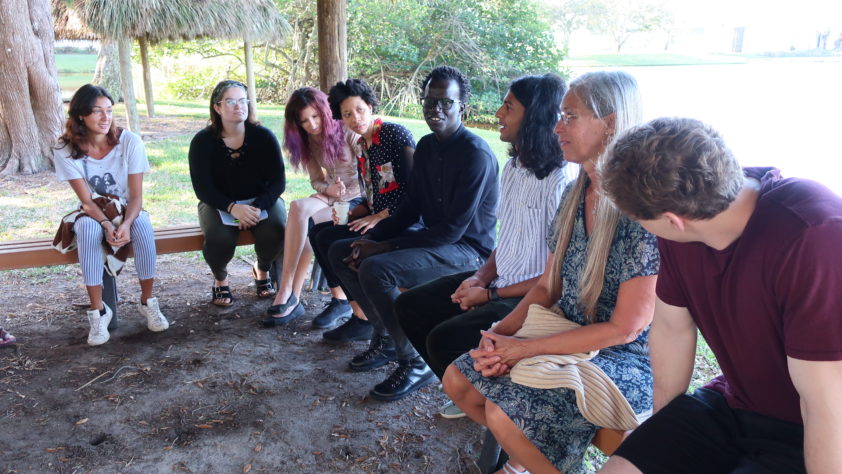 UNESCO Peace leader Kuany Kiir Kuany Helps Communities Build Common Ground
common ground, civility, community foundation of tampa bay, usf, usfsp
Students and community members from throughout the Tampa Bay area had the rare opportunity to receive leadership training from an internationally-recognized youth ambassador for peace during Common Ground, a week-long series of initiatives aimed at fostering more civil, inclusive and compassionate communities.
Kuany Kiir Kuany, 28, a native of South Sudan, is a project officer at The United Nations Educational, Scientific and Cultural Organization, Mahatma Gandhi Institute of Education for Peace and Sustainable Development (UNESCO MGIEP), activating and training youth around the world to encourage positive action and leadership toward greater civility.
For the first time, Kuany brought his work and personal experiences to the United States for Common Ground, which was open to both students and members of the community.  The event was sponsored by USF St. Petersburg, the Open Partnership Education Network (OPEN) and other area colleges and universities as well as the Community Foundation of Tampa Bay.
During the week-long event, Kuany worked directly with participants, offering day-long leadership training and designing initiatives aimed at fostering civility and creating common ground towards more inclusive, sustainable, and collaborative societies.
Kuany completed his elementary and high school education in Kenya while living as a refugee. He went on to earn the Indian Council of Cultural Relations and Symbiosis International University Joint Scholarship, where he graduated with highest honors with his MBA.
The daily workshops aimed at building the soft competencies of collaboration and empathy, critical thinking and hands-on project management skills for social change. By the end of the week, participants designed community-wide projects to be implemented in their respective communities in the course of 2019 and 2020.
Related Post
Aresty Speaker, David Brancaccio, acclaimed reporter, author, speaker and storyteller indulged audience members with his wit, humor and cand...
Aresty Presenter, Jeff Speck, an internationally recognized urban designer, author and city planner, continues to shine his work on cities o...
Open Partnership Education Network and Aresty Family, in collaboration with WUSF Public Media, The Poynter Institute and the The Community...